First 9 weeks Honor Roll
The SMHS administration has released the Principal's list (4.0 and up) and the Honor roll (3.9-3.5) for the first nine weeks.
Senior Principal's List: Shelby Anderson, Peyton Auxier, Hannah Barker, Summer, Burkhammer, Jocelynn Campbell, Aimee Chambers, Aidan Cosper, Brendan Fox, Jaden Hatcher, Morgan Kirl, Ian Koo, Maximilian Kreiseler, Jon Martin, Adriana Matson, Grace McFarland, Whyttaney, McKinney, Joshua Metheney, Kylie Myers, Peyton Oliver, Angelina Parsons, Abigail Perrock, Jaden Schofield, Bethany Smith, Taylorjo Smith, William Steele, Mary Taylor, Zachary Vaughn, Austin Weikart, Hunter White
Senior Honor Roll: Andrew Ahouse, Andrew Bennett, Hailey Blackstone, Faith Bunner, Brian Cecil, Lane Cornell, John Covey, Roger Doehring, Richard Dornon, Audrey Elliott, Gwen Fluharty, Kayla Fox, Jaidyn Giboney, Logan Green, Ashton Hamilton, Paden Hatcher, Bethany Hupp, Nathan Lauer, Shianne McBrayer, Brett Mitchell, Teddi Northrop, McKayla Parker, Dylan Patterson, Kathryn Pierce, Jakob Raines, Rylee Schmidt, Ashley Simonton, Hunter Thomas, Madison Wolfe
Junior Principal's List: Bralynn Davis, Emily Hadley, Lara Fetty, Jacob Elder, Kylie Wright, Logan Rice, Hannah Hudson, Abigail Peckens, Isabella Davis, Bradley Pfalzgraf, Brittany Strum, Ashton Skorupkinski, Desiree Taylor
Junior Honor roll: Hope Bennett, Joshua Brookover, Jason Clayton., Keith Cummings, Hunter Delancey, Alexus Farson, John Giboney, Alexis Hashman, Isabella Hileman, Sydni Hinton, Tressa Lamp, Haley McCardell, Adam Mercer, Carson Miller, Jacob, Neiswanger, Kyra Parker, William Parsons, Carolyn Shingleton, Madison Sigler, Katelyn Turner, Cyle West, Regan Williams, Brayden Wilson, Simon Wren
Sophomore Principal's List: Erika Becker, Olivia Birkhimmer, Riley Boley, Erica Davis, Ethan Davis, Hannah Dearth, Liam Dornon, Mariah Evans, Tristan Glover, Jonathon Goodfellow, Paul Gordon, Charity Hannah, Anondae Heson, Millicent Kehrer, Mattelyn Lamp, Caraline Lancaster, Brandon Lawhon, Katie Lemon, Jessican Lipscomb, Natalie Malone, Cara Masters, Josey Moore, Waylon Moore, Jacob Norman, Destany Price, Austin Satterfield, Ethan Statler, Richard Svencer Jr, Ethan Weikart, Elyssa West, Logan White
Sophomore Honor roll: Skylar Ahner, Edgar Barker, Brianna Barker, Grant Barnhart, Brandon Bivins, Abegail, Boley, Madison Eaton, Luke Fortney, Bryce Hendrickson, Jacob Hooper, Garrytt Horner, Abigail Hubbard, Dillion Johnson, Adam Kaufmen, Walker Lee Jr, Jean Michel, Emma Powell, Thomas Powell, Lydia Redin, William Renkovish, Stephanie Satterfield, Madison Scott, Travis Smith, Hailey West, Christopher Wince
Freshman Principal's List: Allison Amos, Kamyrn Armstrong, Riley Bartrug, Haley Bennett, Chance Cox, Jade Cox, Nathanael Decker, Alexis Eddy, Haley Farson, Lillian Hamilton, Kyle Jones, Jacob Lowther, Ian Niemczyk, James Powell, Eoin Priestley, Ella Smith, Jenna Smith, Karly Starcher, Brayden Whited, Tyler Wilson
Freshman Honor roll: Aliyah Bennett, Jason Bunner, Zoe Davis, Evan Doehring, Cynthia Eakle, Chloe, Eckert, Peyton Girard, Braden Hashman, Alexandra Hause, James Heflin, Hunter Higgins, Alexander Holmes, Caleb Hudson, Brayden Illar, Kayli Lewis, Brady McKnight, Larry Murphy, Timothy Payne, David Powell, Brooke Schneider, Harley Stewart, Noah Wince.
Leave a Comment
About the Contributor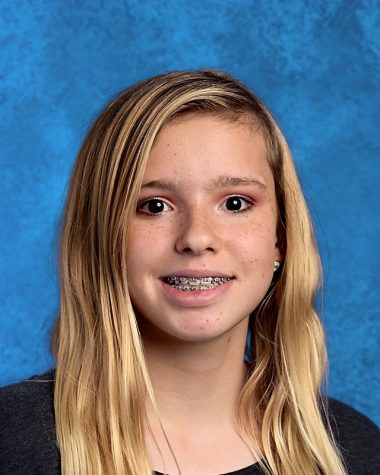 Kyra Parker, Reporter
Hello, my name is Kyra Parker. I have two sisters and a brother. Unfortunately, they're both annoying. I am 16 years old and I am a junior in high school....