FFA National Convention
On Oct. 31 through Nov. 2, representatives from the St.Marys FFA Chapter attended the 92nd National FFA Convention in Indianapolis, Indiana. These representatives included\; Dalton Metheney, Lane Cornell, Shianne McBrayer, Tressa Lamp, and Jeannie Wise. The chaperones were Tyrell Childers and Susan Travers. The event was held at the Lucas Oil Stadium in Indianapolis. "The FFA Convention was a great opportunity for our students to meet other FFA members from all over the United States and to develop new friendships," said Susan Travers.
The National FFA Convention is an event where chapters from every state come into one place to conspire and trade ideas. During the third session, Emily Meeks, a 2018 SMHS Graduate, was awarded the American Degree. In order to receive this degree, one must first get all other degrees prior to, take at least three agricultural classes in high school, must take at least one agriculture class in college, maintained an SAE record book, earned at least $7,500 through the FFA, uphold a "C" average, and show outstanding leadership skills. Her father, David Meeks received The Honorary American Degree, he earned this because of his continuous support of the FFA Chapter.
There were many activities to participate in at this convention. There was a career show where students from our chapter showed their welding skills on a digital welder. Dalton Metheney says "The welder was by far my favorite activity at the convention. I participated in a contest, and I'm upset I didn't win because the winner got $1,000!"
There was also a state and college trivia room. One would win prizes for getting the trivia questions correct about different states and their colleges! It doesn't stop there, though, there was a tractor supply boot with a DJ and a dance party as well. "I really enjoyed seeing other chapters in action together," says senior Shianne McBrayer.
Another thing the students enjoyed seeing was the election of the 2019-2020 National FFA Officers. Koleson McCoy of Ohio is now the National President. Kourtney Lehman of Oregon, the National Secretary. Lyle Logemann of New Mexico, Western Region Vice President. Tess Sebiel of Virginia, the Eastern Region Vice President. Mamie Hertel of Montana, Central Region Vice President.Yomar Roman of Puerto Rico, Southern Region Vice President.
Mr. Childers spoke about how the money was raised to attend this event. He explained that the FFA had a t-shirt sale to raise money this year, and since the chapter only attends every other year, money made by fundraising last year was also used to pay for the students to attend the convention. "We don't go every year, but when we do it's a great learning experience for the kids. They get to see the bigger side of the FFA Organization, and know that what they do, makes a difference." says Tyrell.
Leave a Comment
About the Contributor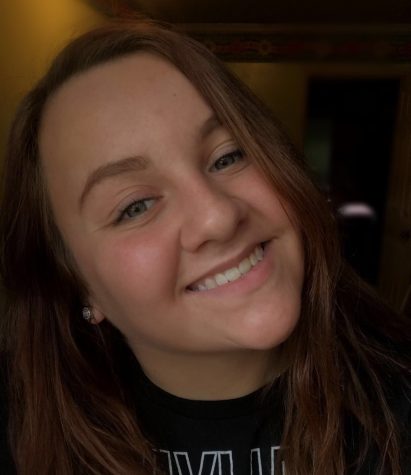 Teddi Northrop, Reporter
Hi! My name is Teddi Northrop. I play volleyball; I'm a hitter. I enjoy spending time and laughing with my friends. I have nine siblings. I have lived...