Blue Devils Earn their 10th Championship at SMHS Invite
The St. Marys Blue Devils coach Mark Barnhart wanted a challenge for the mid-season game. The Blue Devils really stepped up their game and gave us the score of 41-34 over the Mountain Lions. Near the start of the game our junior center Luke Powell stepped out of the game after having some foul trouble but earned us 4 points and 8 rebounds. His teammates immediately jumped in to help. The Blue Devils had a great start with our senior all state performer shooting a long three pointer, Grant Barnhart. They led the score with 9-2 in the first quarter. The Mountain Lions came in at the end of the quarter and tried to keep up but closed with 12-7 as the ending score of the 1st quarter.
The Lions opened the second quarter on a 10-4 run to take a 17-16 advantage with the time 1:32 left before intermission. With 52 seconds left Grant Barnhart hit a pair of free throws and also blocked Ashton Lycliters lay-up attempt at the buzzer and allowed the Blue Devils to take the lead of 18-17 at halftime.
After halftime the boys got right back to it. Waylon Moore was fouled on a put-back try and swished both free throws to put the blue devils in the lead with the score of 26-25 in the third quarter with 2:33 left. Grant gave Powell the ball and shot a fantastic layup just before the end of the quarter and gave St. Marys the lead of 28-25 heading into the last quarter. Grant Barnhart shot another amazing three point leading us into the last few minutes of the game.
The score was 40-30 with the time 1:05 giving St. Marys a ten point advantage. Grant Barnhart showed a total score of 25 points going along with 5 rebounds and 2 assists. Tyler Wilson added seven points completed by Luke Powell for The Blue Devils. Waylon More and Chance Cox with two points apiece and one point from Brandon Lawhon. Waylon Moore was named the all-tournament team for the Blue Devils along with Grant Barnhart and Luke Powell with a game-high three steals.
Leave a Comment
About the Contributor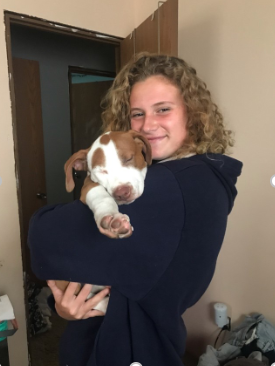 Sage Harper
My name is Sage Harper. I'm a junior at St. Marys High School. I play soccer and run track. I like food, my two best friends and my dogs.