SMHS Girls Earn First Victory
The St.Marys girls won their first victory against Tyler Consolidated's Knights with a score of 34 points. The St.Marys couch Fred King let the upcoming younger players come in to help out on the court as well. This will help them in the long run for next season.
In our first half our senior player Caroline Lancaster turned an ankle and was not seen in the rest of the game. The opposing team had scored at the 6:40 mark of the opening quarter on a shot by Caleigh Phillips who also ended up finishing with nine points at the end of the game. Not even a minute later senior player Josey Moore stepped in with a trifecta and had 3-2 with St.Marys in the lead. Then shortly after Caleigh Phillips made another shot making the score 4-3. But for the knights that was their last lead in the game.
The girls had the score of 15-3 to the close opening quarter with Moore coming through on her second 3-pointer with the help of Addie Davis and Zoe Davis. Zoe and Addie connected from behind the arc for an 18-7 lead. By Halftime the score had begun to grow giving us the score of 31-14.
During the third quarter the girls put another 20 points on the scoreboard making the score 51-23 for the last eight minutes of the play. Callie Powell had taken over for our hurt senior Caroline Lancatser and made 6 points with Zoe Davis adding another pair of three pointers for the team.
The end of the game had come upon us with the St. Mary's Girls scored a 64-30 victory. Zoe Davis led the score with 19 points. Josey Moore and Addie Davis added 12 points a piece. Breanna Price had 11 points with seven steals. Millie Kehrer had a game high of nine rebounds and Addie Davis led the team with eight assists. Our Girls ended up outscoring the knights in the final period with 13-7. This gave our lady devils the victory of 64-30. The girls improved to 1-1 on the season.
Leave a Comment
About the Writer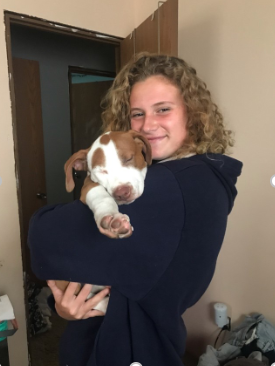 Sage Harper
My name is Sage Harper. I'm a junior at St. Marys High School. I play soccer and run track. I like food, my two best friends and my dogs.