Blue Devils Tame Cougars for 9th Championship
In a game where both teams did a masterful job of protecting the basketball, one of the handful of Frontier turnovers proved costly. With the score deadlocked in the game's final minute, senior William Steele scooped up a ball near midcourt and raced to the basket for what proved to be the decisive points in St. Marys' thrilling 52-49 victory over Frontier Saturday night in the boys' tournament championship game of the 16th Annual SMHS Boys and Girls Invitational.
With the win, St Marys upped its season mark to 7-5 and captured the tournament title for the fourth straight season and record ninth time overall. Frontier, which was making its first appearance in the championship game since 2016, fell to 9-3.
St Mary's head coach Mark Barnhart was pleased with the poise his team showed during the nip-and-tuck contest.He was particularly pleased with the Blue Devils' focus on containing Frontier's leading scorer, Logan Brookover, who was coming off a 32-point effort in the Cougars' semi final victory over South Harrison. St Marys limited Brookover to nine points and held Frontier to 40.8 percent showing from the floor as a team.
Frontier turned the ball over only four times on the night, but the last one was costly as Steele's coast-to-coast drive put the Blue Devils on top 50-48 with time winding down. A Breckin Hoff free throw brought Frontier to within 50-49, but Blue Devil sophomore Grant Barnhart answered with a pair of charity tosses to put his team up 52-49. All around the Blue Devils did an outstanding job of giving the crowd what they came for.
Leave a Comment
About the Contributor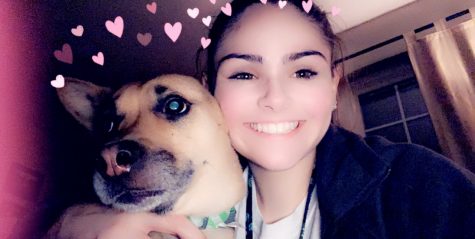 Sydni Hinton, Reporter
My name is Sydni Hinton. This year I am a junior at SMHS. I love all animals. I started working at a grocery store over the summer. During school I like...