Golf Team Wins State Championship
Two Little Kanawha Conference teams that beat each other up all season long, dominated this year's Class A State Golf Championships on the Jones Course at the Oglebay Resort just outside of Wheeling, WV. The St. Marys Blue Devils and Ritchie County Rebels took turns this season to let the other squads know that on any given day and on any given course they could defeat one another. St. Marys had a 72-11 record in match play this year with a team made up of five sophomores and two freshmen. The bad news is that half of those losses were to arch rival Ritchie County, which will have their top three golfers back again next year.
In Wheeling, St. Marys had a first day score of 263 to lead the rebels by nine strokes heading into Wednesday's decisive round. Charleston Catholic was in third with a round of 279 and another LKC team, Ravenswood, was fourth with a team score of 280. The Blue Devils' Grant Barnhart and Brandon Lawhon, along with Ritchie County's Dalton Edwards, were all in the Top 10 after the first 18 holes Tuesday. Lawhon was tied for fifth with an 85 with Deuce Vance of St. Joseph Central. Barnhart was tied for seventh with Devin Raines of Ravenswood, both with 86 and Edwards was in 10th with a round of 89. St. Marys third scorer for the first round was Luke Webb, who carded a round of 92. Ethan Davis shot a 100 for the Blue Devils, but his score was not counted as only the top three golfers count in regionals and state tournament play.
Ritchie's other two scores on day one were Anthony Rader with a 90 and Logan Hilkey with a score of 93. The Rebels' fourth golfer, Krista Davis, shot a 102. On day two, it was all St. Marys as the team seemed to respond to the first year coach Catie Hamilton's pre-round pep talk. The Blue Devils stretched the first-day lead from nine strokes to the final 21-stroke margin with and 85 from Barnhart, a 91 from Lawhon and a surprising 93 from the fourth man Ethan Davis, cut out seven strokes off of his day one score, while Webb, who shot a 92 on day one, had a very tough round scoring a 115 on day two.
Leave a Comment
About the Contributor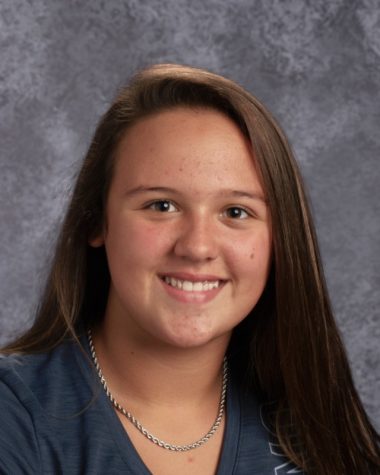 Olivia DeWeese, Reporter
Hi, my name is Olivia DeWeese, and I am a senior at SMHS. I have been in the newspaper class for two years now, and I love it. I am also a member of the...