Marching Band Under New Direction
The St. Marys High School Marching Band has had a change this year in sound, size and director. Not only have the Marching Blue Devils nearly doubled in size, but they have gotten a new spark from new director Bridgette Casto. Mrs. Casto comes from Roane County where she was the assistant band director. When asked why she chose to come to St. Marys she replied, "We wanted to relocate and this is where my husband is from, and this is where I plan to retire."
This year the band has four competitions; Sep. 17 WV Oil and Gas, Oct. 8 PSHS, Oct. 15, Black Walnut and Oct. 29, WVMBI in Charleston. The show title this year is "Fun." Songs included are: "Some Nights," "Carry On," "Falcon" (percussion feature) and "We are Young." This is the first time in many years the band has played four songs and a percussion feature.
"This year is a rebuilding year, bringing back old traditions, and just having fun doing what we all love to do, and that's making music and performing. In the coming years I'd love to have a 60 member band," said Casto.
Members of the 2022-2023 Marching band include: Seniors: Ian Niemczyk (Field Commander), Natalea Mumaw (Feature Twirler), Allie Little, Kyle Jones, Nate Decker, and Katelyn Clark, juniors: Derek Allen, Emma Broce, Chrissa McCoy, and Delaney Umensetter sophomores: Emma Kirby, Linsie Asher, Autumn Harper, and Emma Weikart Freshmen: Myles Pierce, Brittney Biles, McKenna Broce, Courtney Campbell, Madeline Steele and Kya Taylor.
Leave a Comment
About the Contributor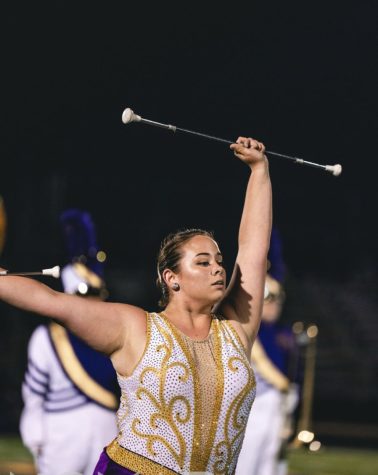 Natalea Mumaw, Reporter
My name Natalea Mumaw. I'm a senior at SMHS. I am the feature twirler for the marching band. I have a three-year-old yorkie named Chip. My favorite class...