Second Nine-Weeks Honor Lists
St. Marys High School has announced its lists of honor for the second nine-weeks of the 2021-22 school year.
Principal's List – 4.0 and Higher:
Freshmen: Makayla Boley, Tyler Dalrymple, Addie Davis, Logan Eddy, Micah Evans, Ryleigh Haught, Savannah Keife, Ryan Kent, Tyson Kimball, Emma Kirby, Preston Lawhon, Marissa Maston, Mary Morrison, Jay Mote, Addison Parks, Jack Peyton, Trent Renner, Brodrick Rice, Brady Rinard, Kyleigh Rupert, Bricia Shultz, Bella Tagliarini, Allyson Tidwell and Emma Weikart.
Sophomores: Adam Bennett, Emma Broce, Andlyn Corathers, Jaela Davis, Halle DeWeese, Ava Giovianzzo, Sophie Greenleaf, Layne Kincaid, Joleen McBrayer, Chrissa McCoy, Willow Peyton and Carson Wyborney.
Juniors: Allison Amos, Kamryn Armstrong, Aliyah Bennett, Haley Farson, James Heflin, Kyle Jones, Ian Niemeczyk, Luke Powell, Karly Starcher, Sammy Tagliarini, Brayden Whited and Tyler Wilson.
Seniors: Eddie Barker, Grant Barnhart, Erica Becker, Ethan Bennett, Olivia Birkhimer, Abegail Boley, Riley Boley, Kierstyn Brookover, Erica Davis, Ethan Davis, Hannah Dearth, Madison Eaton, Mariah Evans, Tristan Glover, Jonathan Goodfelow, Paul Gordon, Charity Hannah, Anonde Hesson, Jacob Hooper, Garrytt Horner, Dillon Johnson, Millie Kehrer, Matty Lamp, Caraline Lancaster, Brandon Lawhon, Walker Lee, Katie Lemon, Jessica Lipscomb, Natalie Malone, Cara Masters, Josey Moore, Waylon Moore, Caroline Powell, Destany Price, Austin Satterfield, Stephanie Satterfield, Madison Scott, Mackenzie Smith, Travis Smith, Mia Tagliarini, Luke Webb, Ethan Weikart, Elyssa West, Hailey West, Logan White and Bridget Williamson.
Honor Roll – 3.9-3.5:
Freshmen: Linsie Asher, Nicholas Barker, Natalie Bartrug, Ella Bullman, Baylee Dilling, Drake Duty, Ryan Green, Laura Hacker, Noah Hubbard, Jaden Jones, Gavin Kildow, Abigail Larson, Katelyn Lawrence, Jerika Longwell, Annabelle Pfalzgraf, Callie Powell, Tara Scoggan, Madison Sturgeon and Mackinzie Wilson.
Sophomores: Derek Allen, Alyssa Brooker, Ava Childers, Sydney Cummings, Josiah DeMoss, Joselyn Hooper, Thomas Kelley, Kiera Martin, Deanna McDougle, Breanna Price, Mia Schofield, Noah Straight and Jacob Wilson.
Juniors: Haley Bennett, Lillian Blouir, Katelyn Clark, Jade Cox, Zoe Davis, Nate Decker, Evan Doehring, Chloe Eckert, Peyton Girard, Braden Hashman, Jacob Lowther, David Powell, Eoin Priestly, Brooke Schneider, Ella Smith and Lillian Snyder.
Seniors: Brianna Barker, Marissa Brookover, Madison Dennis, Haley Putnam, William Renkovish, Tacia Rodriguez and Christopher Wince.
Merit Roll – 3.0-3.49:
Freshmen: Ethan Bennett, Meridith Bennett, Donna Collins, Natalie Colvin, Damien Knight, Tyler Niemczyk, Madison Place, Michael Thomas, and Leila Utt.
Sophomores: Jake DeLancey, Teagan Hunt, Parker Maston, Shane Moran, Wyatt Pinkerton, Olivia Sams, Alayne Smith, Benjamin Wagstaff and Ty Watkins.
Juniors: Breana Cornell, Chance Cox, Bradyen Hall, Sage Harper, Alex Hause, Alex Holmes, Caleb Hudsen, Kayli Lewis, Allison Little, Brady McKnight, Natalea Mumaw, Tucker Payne, Jordan Riffle, Owan Velazquez and Noah Wince.
Seniors: Skylar Ahner, Abbigail Hubbard, Jean Michel, Jacob Norman, Julissa Price and Rebekah Sunderman.
Leave a Comment
About the Contributor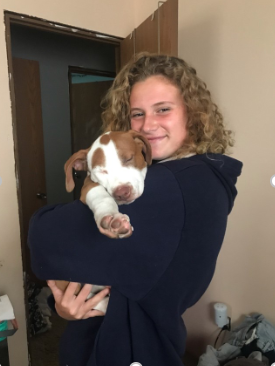 Sage Harper
My name is Sage Harper. I'm a junior at St. Marys High School. I play soccer and run track. I like food, my two best friends and my dogs.