5 Books You Need to Read
5 Books You Need to Read
The Great Gatsby
The Lord of the Rings
Pride and Prejudice
The Book Thief
To Kill a Mockingbird
The Great Gatsby: The Great Gatsby is a 1925 novel by american writer F. Scott Fitzgerald. Set in the Jazz Age on a long island, the novel depicts narrator Nick Carraway's interactions with mysterious millionaire Jay Gatsby and Gatsby's obsession to reunite with his former lover, Daisy Buchanan. It was originally published, April 10, 1925. Page count is 218, original US Edition. Characters are Jay Gatsby, Nick Carraway, Daisy Buchanan and more.
The Lord of the Rings: The future of civilization rests in the fate of the One Ring, which has been lost for centuries. Powerful forces are unrelenting in their search for it. But fate has placed in the hands of a young Hobbit named Frodo Baggins (Elijah Wood), who inherits the Ring and steps into a legend. The release date is December 19, 2001. The Director is Peter Jackson. Budget is 93 million. The music is composed by Howard Shore, and is also featured in the song: "May it Be."
Pride & Prejudice: Pride and Prejudice is an 1813 romantic novel of manners written by Jane Austen. The novel follows the character development of Elizabeth Bennet, the dynamic protagonist of the book who learns about different things in life. This was originally published Jan. 28, 1813. The Author is Jane Austen. The main character is Elizabeth Bennet. The working title is first impressions.
The Book Thief: The Book Thief is a historical novel by Australian author Markus Zusak, and is his most popular work. Published in 2005, The book thief became an international bestseller and was translated into 63 languages and sold 16 million copies. It was adapted into a 2013 feature film of the same name. This was originally published in 2005, The Author is Markus Zusak. Page count is 584.
To Kill a Mocking Bird: To Kill A Mockingbird is a novel by the American author Harper Lee. It was published in 1960 and was instantly successful. In the United states, it is widely read in high schools and middle schools. To kill a mockingbird has become a classic of modern american literature, winning the Pulitzer Prize. It was originally published July 11, 1960. The author is Harper Lee. The page count is 281.
Leave a Comment
About the Contributor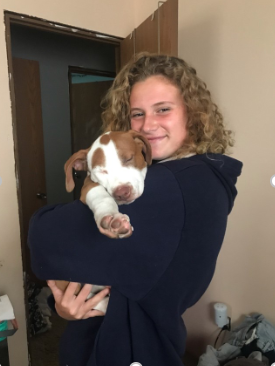 Sage Harper
My name is Sage Harper. I'm a junior at St. Marys High School. I play soccer and run track. I like food, my two best friends and my dogs.