Girls Sectional Championship
The St. Marys Lady Devils battled against Magnolia in the Class AA girls sectional championship and came out with a bang. Magnolia had St. Marys on the ropes several times throughout the second half, but the Lady Devils refused to submit, absorbing the Lady Eagles best shot and ultimately pulling out a thrilling 57-54 overtime win at SMHS. The Sectional Championship was the second in a row for the Lady Devils, who improved to 15-3 on the season and will remain at home Thursday to host Williamstown in the Region 1 Co-Final. Magnolia, who upset Ritchie County in the Sectional semifinals, fell to 7-15. The Lady Eagles are still alive in the postseason, but they must crossover to play top-ranked Parkersburg Catholic in the other regional co-final Thursday.
The winner of the regional co-finals will advance to play in next week's Class AA state tournament in Charleston. St.Marys is gunning for it's second straight state tournament berth. Their trip to the state tournament last year was cut short by COVID-19. St. Mary trailed for much of the second half and found itself down by six points at, 47-41, with six minutes left in regulation. With her team in need of a play, senior Kylie Wright answered the bell for the Lady Devils as she drove strong to the basket to cut Magnolia's lead to 47-43. Sophomore Zoe Davis took over for the next four minutes, scoring seven of St. Mary's next eight points. Her two free throws put the Lady Devils on top 49-47, with 2:13 remaining.
The next minute belonged to Magnolia as an inside basket by Mady Winters and a pair of free throws by Lenieca Grimm staked the Lady Eagles to a 51-49 lead with 59 seconds left. The lead lasted only 15 seconds as Wright calmly stepped to the free throw stripe and knocked down two foul shots to knot the count at 51-51. After forcing Magnolia to misfire on its next possession, St. Marys had a chance to pull out the win at the end of regulation. Davis appeared to draw contact as she forced up a last-second shot, but no foul was called so the contest headed to overtime. At the end of the game in overtime the Lady Devils held onto the three point lead to win the Sectional Championship.
Leave a Comment
About the Contributor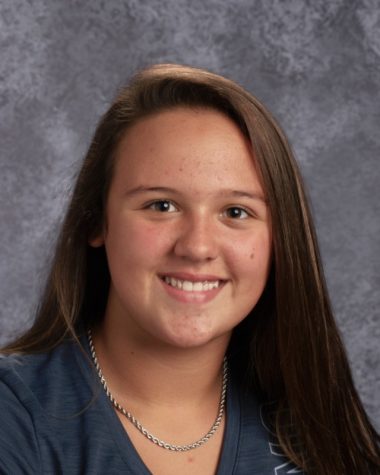 Olivia DeWeese, Reporter
Hi, my name is Olivia DeWeese, and I am a senior at SMHS. I have been in the newspaper class for two years now, and I love it. I am also a member of the...