Places to Visit in West Virginia
Not many people see the true beauty of West Virginia. There are some people that do not even know about it. Behind the scenes of the state there are many places to visit here. They are beautiful views to see.
One place to go visit is New River Gorge Bridge. It is a beautiful giant bridge in the heart of West Virginia. They have an annual day called bridge day where people go to the New River Gorge and bungee jump off the bridge. They also go to admire the bridge's beauty. At the bottom of the mountain there is a river called New River Gorge National River. When you look down at the river from the bridge the river looks tiny.
Another place to go is the Greenbrier hotel. It is a gorgeous hotel right on a golf course. Many people visit there today to go golfing. Many famous people also visit there, and is usually where they stay when they come to West Virginia. Our former 45th president stayed there when came to West Virginia to talk to the people. It is owned by our current governor Jim Justice.
One more place many people like to visit is Blackwater Falls. It is a great place to go to see some good scenery. It is also a great place to go when you want to go hiking in nature. Many people go down there and rent a cabin. They spend many days exploring the area. It is also a good place where you can take dogs. They love to go hiking.
In conclusion, there are many hidden beauties in West Virginia. You might not know about them, but they are there. If you ever visit West Virginia visit one of these places.
Leave a Comment
About the Writer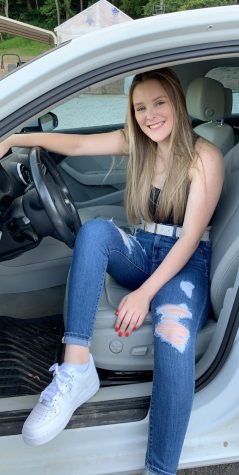 Madison Scott
My name is Madison Scott and I'm a junior. I am currently enrolled in Early College Classes. I also do 3 sports, which are cross country, basketball,...