Still Perfect
Friday night's high school football game at Bill Hanlin Stadium had all of the making of a trap game. St. Mary's had none of it. Coming off a hard fought win against Ritchie County and with a battle against Williamstown looming on the schedule next week, winless Calhoun County presented a unique challenge for the Blue Devils. St. Mary's showed no letdown as they crammed a game's worth of score into half of the quarter and went on to defeat the Red Devils 60-8.
The Blue Devil found themselves atop Class A rankings when the first installment of the WVSSAC computer ratings were released earlier this. Head coach Jodi Mote lived up to the lofty ranking Friday night, bolting out to a 28-0 advantage on the first 6 in a half minutes of play before leading 34-0 at the end of the first quarter and 54-0 at the half.
Little went wrong for St. Mary's in the first half as it scored eight touchdowns and piled up 240 total yards of offense. Calhoun County, meanwhile, managed only six yards and one first down during the first 2 quarters. The Red Devils also turned the ball over three times and had a punt blocked. St. Marys scored on all eighth of its first-half possessions.
The Blue Devils opened the game with a well-conceived six-play, 73-yard march. Running back Ben Long got the drive rolling with a 26 yard run before back-to-back runs of 20 and six yards by quarterback Brennan Boron moved St. Mary's to within scoring position. Runnin back Tre Moss picked up 10 yards before polishing off the drive with an eight yard scoring run. Jon Morrison's extra point kick staked the Blue Devil to a 7-0 edge 2:08 after the opening kickoff.
Leave a Comment
About the Contributor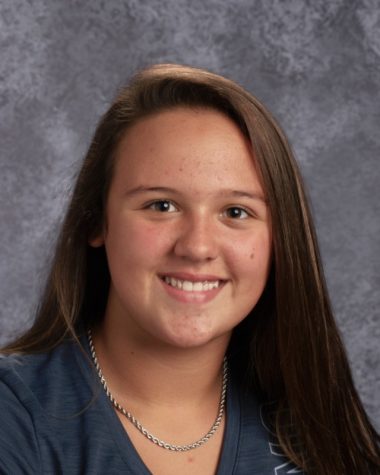 Olivia DeWeese, Reporter
Hi, my name is Olivia DeWeese, and I am a senior at SMHS. I have been in the newspaper class for two years now, and I love it. I am also a member of the...