Where to Buy your Prom Dress
Prom is coming up quicker than you'd think, April 25 to be exact! So we all know what that means, prom dress shopping! Over this past weekend, I went with a couple of my friends to shop for prom dresses, and we ended up hitting up a few more shops than expected. Here I have compiled a list of places I went to, and that you can hopefully find your dream dress at!
Oliverio's Bridal, Prom, & Pageant Boutique. Clarksburg, WV
Oliverio's was the first place for my friends and I's adventure to find our dresses. My friends found a good bit of dresses to try on, and found one's they really liked. My friend Jessy ended up finding the perfect dress, and it is stunning! Oliverio's was a great shop and had this stage you could get up on and really showcase your dresses. Once again, I didn't really find anything in my size, which was once again discouraging. However, the dresses they had in other sizes were very beautiful and the employees there were super nice. I think this is a great shop to possibly hit up!
Elizabeth Michaels. Vienna, WV
I went to Elizabeth Michaels a week or two before I went to shop with my friends. They have very beautiful dresses, but a very slim selection of dresses in my size. I tried on a few, but ended up just getting discouraged. However, the shop is very nice and I know many people have found their dresses here. I would recommend starting here since it's the closest one, and branching out if you don't find anything.
The Queen's Choice. Morgantown, WV.
I would say that this is my favorite shop of them all, since I found my dress here. This was the last place we went to, and I was very excited to finally find a good selection of dresses in my size, and bigger sizes in general! The store was huge, and kind of overwhelming at first. However, once I met the consultant that would be helping me and started finding dresses to try on, I felt more comfortable. The employees here were extremely nice and encouraging, and so were the other customers actually! People kept complimenting the dresses I had on, and I returned the favor and complemented others. Overall, this place had the best selection of honestly any size in my opinion, and had the most positive atmosphere! This would be my top recommendation!
Lavish Boutique. Morgantown, WV.
I would have to say this was my least favorite of all the places I went, since I literally had nothing to try on. This was a smaller shop, and was a let down on the selection. My friend Summer found a few to try on, but didn't find anything she liked.
The House of Fashions. Bridgeport, WV.
I would say that The House of Fashions was my second favorite place we went. They had a great selection of dresses in my sizes, and I actually found a few that I liked. However, I knew I wasn't completely in love with them. However, the people there were super helpful and nice, and the shop itself was unique, but nice! I would definitely recommend going here to try to find your dream dress!
Leave a Comment
About the Contributor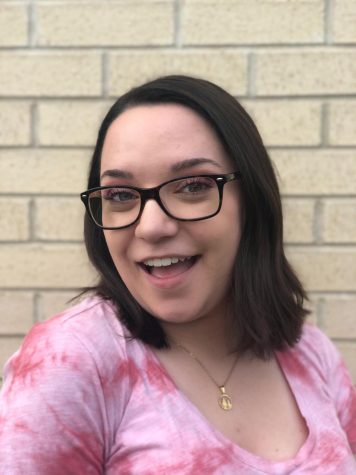 Jenna Barnhart, Editor
Hey, I'm Jenna Barnhart! I am a 17-year-old senior at St. Marys High School. I have an older brother and two dogs, named Nicki and Finn. My favorite...