Lady Devils Upset The Lady Jackets
The St. Marys – Williamstown girls' game last Tuesday evening on the Yellowjackets home boards looked like it would be a shootout similar to the one back on Dec. 30 in St. Marys when Williamstown came away with a 59-53 victory.
At the same time, it was St. Marys first loss and gave Williamstown a leg up in the LKC West Division. This time, it was the Lady Devils who took advantage of a woeful shooting night from the floor by the Yellowjackets, who went 18 for 72 for an icy 25 percent.
The home team trailed all of the first period until Taylor Newton's basket with just under a minute to go in the third quarter tied the game at 12-12. Zoe Davis scored with 35 tics on the clock to give the Lady Devils a 14-12 lead heading into the second stanza.
In the second period, Kylie Wright went on a tear by scoring the first seven points of the frame as St. Marys built a 10 point advantage, at 28-18, with 2:02 left until halftime. Williamstown, however, closed out the quarter on a 4-0 run and went to the locker room down 28-22.
With four minutes left in the third period and St. Marys leading 32-24, the Yellowjackets ran off eight straight points to tie the contest at 32-32 with 1:41 left on the clock. The Lady Devils rallied with a 4-0 run of their own, the last two coming on a pair of free throws by Davis with 6.2 tics left, to push the lead 36-32 heading into the final eight minutes of play.
In the fourth quarter Williamstown's Sophia Folwell hit a hoop in the first minute to make it a two point game, but Josey Moore scored two baskets in under 40 seconds and Lara Fetty added a mid range jumper and a pair of charity tosses to push the Lady Devils' lead to nine points, 44-35, at th3 4:22 mark.
The closest Williamstown could get after that was 5 points with 47 seconds left and then again with 10 seconds left. Both times, Wright and Moore answered hitting both ends of their one-and-one free-throw opportunities and pushed the final tally to 50-43 for The Lady Devil win against Williamstown Yellowjackets.
Leave a Comment
About the Contributor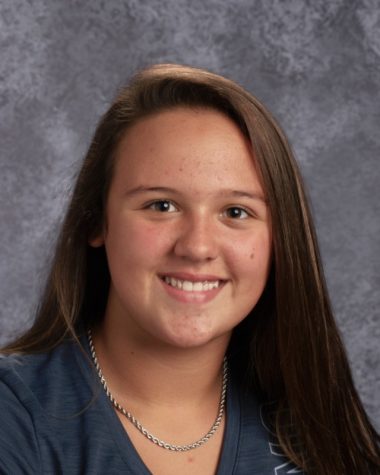 Olivia DeWeese, Reporter
Hi, my name is Olivia DeWeese, and I am a senior at SMHS. I have been in the newspaper class for two years now, and I love it. I am also a member of the...