How To Plan A Senior Trip
One of the best parts of your senior year is going on a senior trip if you're lucky enough to go on one. Most students here at SMHS participate in beach week with their friends. However, my friend group and I decided to go somewhere else for ours, since none of us would be allowed to go to the beach. Here are some steps that we're following to hopefully plan a successful senior trip, and will hopefully help you and your friends to plan one too!
Make a group chat: Make a group chat over text message or on snapchat. This is an easy and simple way to talk with the entire group and get everyone's opinions on everything. This is also a good way to keep track of everything, since you can go back later and look at the conversations if they're saved.
Set a budget: Setting a budget off the bat is really important. This helps get everyone on the same page, allows everyone to pay an equal and fair price and lets people know how much money to save up for the trip. Also, if you're planning on cooking or buying food for the trip, make sure to factor that into the budget!
Pick your destination: After you and your group have decided on a budget, it's time to begin looking for a place to go! Get together as a group and get everyone's opinion on where they'd like to go, and start searching. There are some great options not too far from here, or if you're allowed, you can go further.
Pick a date: Talk with your group about when everyone could go. Some people like to go right after graduation, while some like to wait. Every group is different, so just plan accordingly to your group's needs and wants.
Figure out the driving situation: Carpooling is a must for senior trips. It not only saves gas, but also makes the trip more memorable. Divide up as evenly as possible, and try to take the biggest vehicles you can for maximum comfort. While still remaining safe, have fun riding with each other. Play music and sing along together, and if it's a long trip play some roadtrip games. It may be cheesy, but sometimes the trip there can be just as memorable as the destination.
Find some activities: Once you've picked out your destination, look around the area to find some activities around it. Look for restaurants to eat at, stores to shop at and outdoor activities near where you're staying.
Packing: Jump on the group chat that I have previously mentioned and plan what to pack. Make sure that everyone knows what to bring, and if one person in particular is supposed to bring it, make sure they're aware.
I hope these steps and tips will help you to plan a fun and memorable senior trip. Have fun and safe travels!
Leave a Comment
About the Contributor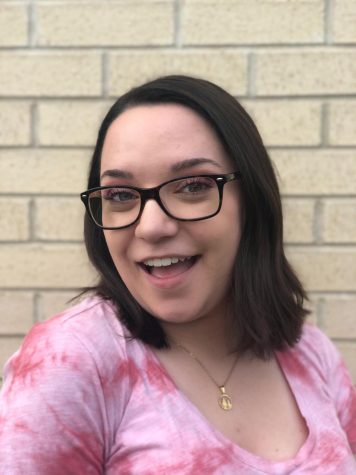 Jenna Barnhart, Editor
Hey, I'm Jenna Barnhart! I am a 17-year-old senior at St. Marys High School. I have an older brother and two dogs, named Nicki and Finn. My favorite...