How To Host A Friendsgiving
Thanksgiving is all about getting together with the people you love, and celebrate what you're thankful for. This holiday is usually celebrated with your actual family, but why not have a celebration with your friends that feel like a second family? My group of friends and I have now celebrated friendsgiving together for a few years in a row, so here are some tips and ideas to help you and your friends throw your own!
Make it a potluck!
A good rule of thumb for hosting a friendsgiving is to not try to do it all alone. The friends you invite should all pitch in someway, whether it's by bringing a dish or dining supplies like plates and silverware.
Plan ahead of time!
If you and your friends are anything like mine, you will need to plan everything in advance. Make a groupchat, if you don't already have one, and plan things like the date / time of the dinner and who's bringing what foods.
Decorate!
Friendsgiving is an event to remember with your friends, so make it special by decorating! Go to the store and buy some Thanksgiving decor, or even better, make your own! Making something as simple as a centerpiece or place cards for the dinner table can really make this occasion extra special!
Bring unusual Thanksgiving foods!
Friendsgiving is a great opportunity to get to eat foods that you wouldn't find at your typical Thanksgiving dinners, especially since this might be your third or fourth dinner this year! Use this as an opportunity to try recipes you've found online, and try different foods with your friends.
Play games!
Playing games can make this party way more fun and memorable. Go around the table and say something you're thankful for, bake and decorate cookies, play cards or board games, play a friendly game of football, anything to make a memory!
Get creative!
Get your friends together and paint a fall / Thanksgiving themed picture, look up some crafts on Pinterest to do, decorate pumpkins. Coloring sheets are another idea. If you think you're too old for these, you're not. These projects could be a good way to destress and have something to bring home after the meal!
Leave a Comment
About the Contributor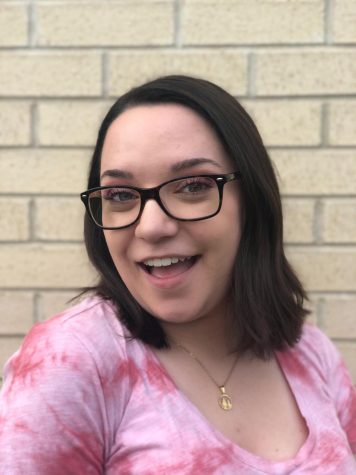 Jenna Barnhart, Editor
Hey, I'm Jenna Barnhart! I am a 17-year-old senior at St. Marys High School. I have an older brother and two dogs, named Nicki and Finn. My favorite...