A Day In The Life Of A SMHS Counselor
Mrs. Loura Rinard has been a counselor at St.Marys High School since 2012. She truly has a job that never stops, and that requires her to "wear all the hats." Being a school counselor requires you to be an incredibly understanding and flexible person, who can also take constructive criticism, which Mrs.Rinard definitely is. When asked what she believes a school counselor is, she replied with "I believe I am the helper of all. I see myself as the person who connects everyone at this school. Whether that be with students, teachers or even parents."
A day in life for Mrs.Rinard at SMHS consists of a few different things. Some days begin with meetings with her fellow faculty members. The rest of her day consists of meeting with various students about different topics. The first topic being college and career planning. Mrs.Rinard is a great resource for when you need help with picking a college or major, finding your career path, filling out your FAFSA and many more things dealing with your future after you graduate high school. Mrs.Rinard is also the class advisor for the freshman and junior classes, so she holds numerous meetings with these classes.
She also deals everyday with helping students with their mental health. Many students every day come into her office simply looking for someone to listen to them. Mrs.Rinard says that she strives to be the person that students can come to when they have a problem, and she will use her toolbelt of skills to help them solve their problems or find coping skills if needed.
A huge change to her office this year is the addition of Lacie Sturm, an intern for Mrs.Rinard. When asked about Lacie, Mrs.Rinard replied with "She has been a huge help. With this job, there is a good amount of busy work, and Lacie has been very helpful with completing that." Mrs.Rinard also told me that her and Lacie are working on a project where they write positive notes for kids who need them.
Leave a Comment
About the Contributor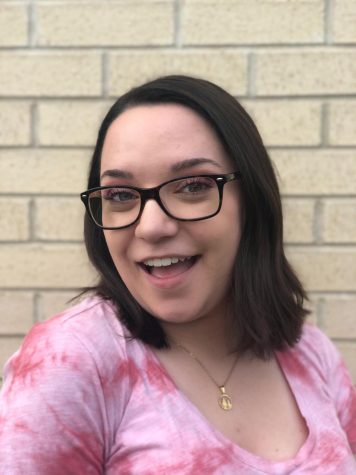 Jenna Barnhart, Editor
Hey, I'm Jenna Barnhart! I am a 17-year-old senior at St. Marys High School. I have an older brother and two dogs, named Nicki and Finn. My favorite...