Golf Heads To State Match
After winning the Class A, Regional I championship on Monday at Mingo Bottom Golf Club in Elizabeth, the St. Marys Blue Devils Golf team is bound for the WVSSAC State Golf Tournament.
The Blue Devils shot a 244 to easily win the title by a 12-stroke margin over runner-up Ritchie County with a score of 256. The top two teams move onto the Class A state tournament at the Speidel Golf Course at Oglebay Park next Tuesday and Wednesday, Oct. 8-9.
Wheeling Central, last year's state champion, placed third with a team score of 264. Magnolia was fourth with 275, Tyler Consolidated was fifth with 311 and Paden City only had one golfer and did not receive a team score. The other two teams in Region 1, Weirton Madonna and Hundred did not send teams to the regional.
In addition to the entire squad from the top two teams going on to play in the state championship, the top two golfers in the regional from the remaining teams also qualify for the state as individuals. Thoses qualifiers were Trey Blain of Magnolia, who was the Region 1 medalist with a score of 77, and Justin Doerr of Wheeling Central with a score of 83.
In the regional, only the team's top three scores are counted and the three St. Marys golfers had the second, third and fourth best scores of the match after Blain's 77. Grant Barnhart and Brandon Lawhon both shot rounds of 81 for the Blue Devils and Luke Webb had one of his best efforts of the season, firing an 82. The Blue Devils' fourth man, Ethan Davis shot a 93.
Barnhart, Lawhon and Webb were named to the eight-person all-tournament team along with Blaine of Magnolia, Doerr and J.C. Maxwell of Central and Dalton Edwards and Krista Davis of Ritchie.
Ritchie also had all three of their top golfers score in the 80's with Edwards leading the way with a round of 82. Krista Davis was in the clubhouse with an 86 and Anthony Rader shot an 88.
Wheeling Central had its top two golfers shoot rounds of 83 and 84, respectively, but the Maroon Knights' third man came in with a 97 to shatter any hopes of a repeat state title.
The team will travel to the Speidel Golf Course at Oglebay Park next Monday, Oct. 7, for a practice round on the state course.
Leave a Comment
About the Contributor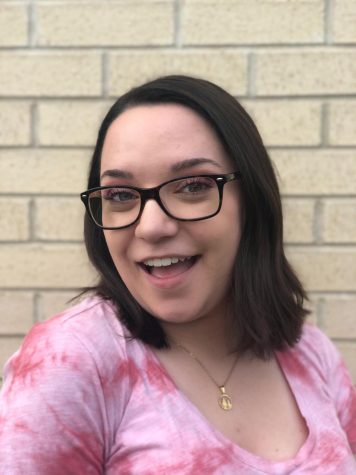 Jenna Barnhart, Editor
Hey, I'm Jenna Barnhart! I am a 17-year-old senior at St. Marys High School. I have an older brother and two dogs, named Nicki and Finn. My favorite...