Say Hello Day
"Say Hello Day" was held on Sep. 24, at St. Marys Elementary and Belmont Elementary. National Honor Society students attended these schools to teach younger students how to be kind and accepting, and ways to make their school a better place. High school students performed skits to help convey their positive messages, made positive bookmarks with the kids and made cards for a Ritche county student who is battling cancer. The rest of the day, high school students helped their assigned classes with class work and got to hangout with the younger students.
Jenna Barnhart speaks to her experience at the event, "I personally was in Mrs.Darrington's first grade class at SMES, with Hannah Barker. I participated in a skit about your worth, in which I played the mean girl, and proceeded to crumble and rip up a dollar that Hannah Barker had. If there's one thing I learned from this whole experience, it's that you shouldn't rip a dollar in front of children. I got many questions and comments throughout the whole day from teachers and young students. Hannah and I then proceeded to go and meet our class, which was super accepting of us, and extremely excited to have us there! After reading a story written by two of our fellow SMHS students, Hannah Hudson and Kyra Parker, we helped students decorate bookmarks with the theme of "kindness." It was so cool to see all the kids different ideas for them, and I was soon trapped in a swarm of excited children showing me their masterpieces\; which I surprisingly embraced.The day in a whole, was extremely enjoyable, and I found myself very sad when it came to an end. I actually had to almost hold back tears when I was saying goodbye to my class, and they were all rushing up to hug me. I think the kids enjoyed the day as much as us high schoolers did, and I think they learned some things from us too. Spending time with these students made me begin to think that I may want to do a job in the future with kids their age."
Leave a Comment
About the Writer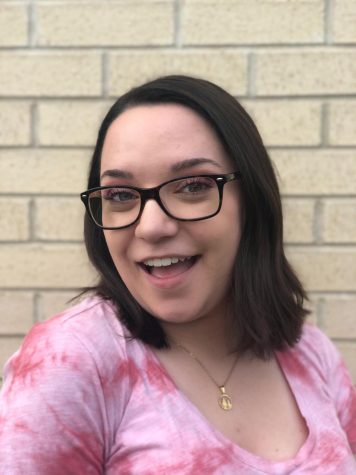 Jenna Barnhart, Editor
Hey, I'm Jenna Barnhart! I am a 17-year-old senior at St. Marys High School. I have an older brother and two dogs, named Nicki and Finn. My favorite...