Cheerleaders Begin Season
The 2019 SMHS Cheerleaders began their season on Aug. 5. This year, tryouts were held for the competition team only. There will be 12 cheerleaders cheering one the sidelines at football games and six competing in this years Regional and LKC competitions. The cheerleaders are coached by Mrs. Amanda Rubenstein and assisted by Ms. Susan Travers.
Criteria to tryout for the competition team included basic tumbling, a three-jump sequence, the ability to base or fly during stunting, along with an eight-count routine sequence, created by the participant. The four judges scored based off of technique, ability, spirit and creativity. The cheerleaders on the competition team include: Shelby Anderson, Anondae Hesson, Kierstyn Brookover, Tacia Rodriguez, Dylan Covey and Allison Amos. Tryouts were held on Aug. 7 in the gym. The team held a stunt clinic on Aug. 12, then later held their first choreography clinic on Aug. 17. The choreography for the team this year is being done by Buckeye Cheer Elite in Powell, Ohio. The WVSSAC Region 1 competition is being held at East Fairmont High School on Nov. 9. The date and location for the LKC competition is to be determined. After working baseball and volleyball concessions, the cheerleaders have earned enough money to purchase new uniforms for the second year in a row.
On Friday nights, Shelby Anderson, Madison Wolfe, Bailey Hamilton, Anondae Hesson, Kierstyn Brookover, Tacia Rodriguez, Caroline Powell, Madison Dennis, Jean Michel, Dylan Covey, Erin Dulley and Allison Amos will be cheering for the team. At the beginning of each practice, cheerleaders participate in 30 minutes of conditioning in the weight room with strength coach, Mr. Jim Rubenstein. Following conditioning, the cheerleaders work on sidelines and stunts to perform at games. The cheerleaders will be at all home games and will travel to the away games with the SMHS Band.
Leave a Comment
About the Contributor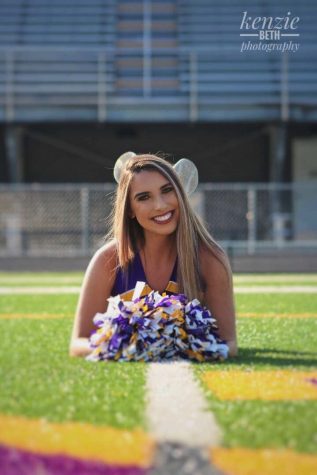 Shelby Anderson, Sports Editor
Hi! My name is Shelby Anderson and I am a 17-year-old senior at St. Marys High School. I am the captain of the cheer team and also compete on the competition...