Lady Devils Win 3 In a Row
The Lady Devils have been working extra hard to get their wins this year. These past few days the Devils have defeated three different teams giving them a season record of 3-4. This past week the lady devils went against Tyler Consolidated, losing their match. This loss made the girls work harder and stronger together than ever before.
The Lady Devils on Sept. 14 ended up Defeating Wirt County with a leading 11 points from Millie Kehrer. In the Match Mackenzie Smith got four blocks and two aces against the knights as well. After barely winning the first set Mackenzie Smith came in and led with 17 points, Andlyn Corathers having 16 assists, and Ava Childers having 13 points and 19 digs ended up defeating the Wirt County Tigers.
The Lady Devils had a Tri match at Trinity on September 15 giving us a win from Trinity but ended up losing to Linsly. The lady devils finished their last game at home with Wahama giving us another win. Andlyn Corathers led the match by scoring 13 points and 17 assists. Mackenzie Smith and Mia Schofield ended up giving us 12 digs as well. The Lady Devils are really stepping it up, hopefully to win more games this year.
Leave a Comment
About the Contributor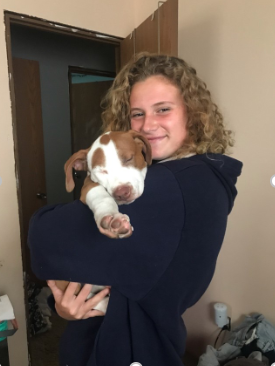 Sage Harper
My name is Sage Harper. I'm a junior at St. Marys High School. I play soccer and run track. I like food, my two best friends and my dogs.