Shows to Binge Watch This Summer
Shows to binge watch this summer
Bridgerton
Shadow and Bone
Greys anatomy
The Vampire Diaries
New Girl
Bridgerton is full of drama, romance, intrigue, and sexy scenes. Bridegerton follows Daphne Bridgerton, the eldest daughter of the powerful Bridgerton family as she makes her debut into Regency London's competitive marriage market. Hoping to follow her parents' footsteps and find a match sparked by true love, Daphne's prospects initially seem to be unrivaled. But as her older brother begins to rule out her potential suitors, the high society scandal sheet written by the mysterious Lady Whistledown casts aspersions on Daphne. Enter the highly desirable and rebellious Duke of Hastings, committed bachelor and the catch of the season for the debutantes mamas. Despite proclaiming that they want nothing the other has to offer, their attraction is undeniable and sparks fly as they find themselves engaged in an increasing battle of wits while navigating society's expectations for their future.
The show "Shadow and Bone" is based on Leigh Bardugos Grishaverse novels. The story follows Alina Starkov, an orphaned soldier who is half-ravkan and half-shu. When Alina, her troop and her best friend Mal are sent into the fold-which is a treacherous swath of darkness that divides the Ravka into East and West sides-they discover she is Grisha. Grisha are those who practice "small sciences" and have special capabilities to harness certain elements. Alina finds out she's a Sun Summoner and is immediately taken under the wing of manipulative Grisha leader, General Kirigan.
Grey's Anatomy is a medical based drama centered around Mereidth Grey, an aspiring surgeon and daughter of one of the best surgeons, Dr Ellis Grey. Together they are discovering that neither medicine nor relationships can be defined in black and white. Real life only comes in shades of grey. In the first episode Merideth Grey, Izzie Stevens, George O'Malley, Cristiana Yang, and Alex Karev become interns at Seattle Grace Hospital. Meredith discovers that her one night stand was actually one of her bosses and she and her new friends discover that being a surgeon isn't as easy or fun as they thought it would be.
The Vampire Diaries follows the life of Elena Gilbert, a teenage girl who has fallen in love with a 162 year old vampire named Stefan Salvatore. Both brothers attempt to protect Elena as they face various villains and threats to their town, including Katherine. In the first season Harper, a vampire who escaped from the tomb, kills a man in the woods and steals their clothes…Alaric discovers that his wife Isabel was Elena's biological mother and turned into a vampire by Damon, and the confrontation ends when Damon stabs Alaric to death with a stake.
The show "New Girl" follows Jess Day. After a bad break up Jess Day needs a new place to live. An online search leads her to a great loft and three single guys she's never met before. But Jess moves in, and through the support of her new roommates, she learns to move on.
Leave a Comment
About the Contributor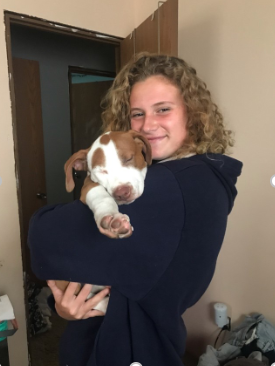 Sage Harper
My name is Sage Harper. I'm a junior at St. Marys High School. I play soccer and run track. I like food, my two best friends and my dogs.