Top Three Homemade Foods
Top Three Homemade Foods
Roast Chicken
Salsa
Pancakes
Roast Chicken. For Roast Chicken you will need to preheat the oven to 425 degrees F. Then you will remove the chicken giblets. Rinse the chicken inside and out. Remove any excess fat and leftover pin feathers and pat the outside dry. Liberally salt and pepper the inside of the chicken. Then you will stuff the cavity with a bunch of thyme, both halves of lemon, and all the garlic. Then you will brush the outside of the chicken with the butter and sprinkle again with salt and pepper. Tie the legs together with kitchen string and tuck the wing tips under the body of the chicken. Place the onions, carrots, and fennel in a roasting pan. Toss with salt, pepper, 20 sprigs of thyme, and olive oil. Then you will spread it around the bottom of the roasting pan and place the chicken on top. You will roast the chicken for 1 ½ hours, or until the juices run clear when you cut between leg and thigh. Remove the chicken and vegetables to a platter and cover with aluminum foil for about 20 minutes. Then you will slice the chicken onto a platter and serve it with the vegetables.
Salsa. For salsa you will need Fresh Roma tomatoes. Use the nice and red ones, avoid anything soft. Then you will need canned tomatoes as well. People like to use canned in addition to fresh because it gives the salsa a better consistency. Next you will need fresh cilantro. This adds key flavor, don't omit this. Then add some jalapeno to add a nice kick. If you don't like heat you can add ¼ cup chopped bell pepper. Then add some red onion. You can also use yellow onion as well. Then green onion. If not, use omit. Then some garlic. It may seem small but garlic packs a flavorful punch, but only fresh garlic is best. Then you will add lime. Lime really brightens up the salsa. Then you will add chili powder and cumin. You don't have to always add this but it is a nice addition. Then sugar. Just a touch of sugar balances out the acidity of the tomatoes and lime. Then you will add salt and pepper. The salsa would taste flat without the salt and the pepper.
Pancakes. You will first need 2 cups of all purpose flour, 2 teaspoons baking powder, ¼ teaspoon salt, 1 tablespoon sugar, 2 eggs, 1 ½ to 2 cups milk, 2 tablespoons melted and cooled butter (optional), plus unmelted butter for cooking or use neutral oil. Then you will need to heat the griddle or large skillet over medium-low heat. In a bowl mix together dry ingredients. You will gently stir this mixture into dry ingredients, mixing only enough to moisten flour; don't worry about a few lumps. If the batter is thick add a little more milk. Then you will place a teaspoon or 2 of butter or oil on griddle or skillet. When butter foam subsides or oil shimmers, ladle batter onto griddle or skillet, making pancakes of any size you like. Adjust heat as necessary; usually, first batch will require higher heat than subsequent batches. Flip pancakes after bubbles rise to the surface and bottoms brown, after 2 to 4 minutes. Cook until the second side is slightly browned. Serve, or hold on an ovenproof plate in a 200-degree oven for up to 15 minutes.
Leave a Comment
About the Contributor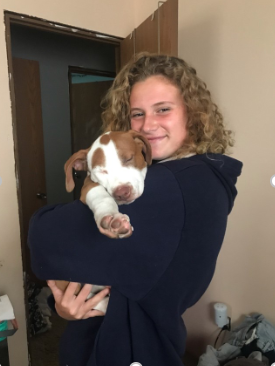 Sage Harper
My name is Sage Harper. I'm a junior at St. Marys High School. I play soccer and run track. I like food, my two best friends and my dogs.