Top 5 High End Brands
Top Five High End Brands
Louis Vuitton
Gucci
Hermes
Prada
Chanel
Louis Vuitton is the top brand in clothing and ect. Louis Vuitton Malletier, commonly known as Louis Vuitton or shortened to LV, is a french fashion house and luxury goods company founded in 1854 by Louis Vuitton. They have items such as shop handbags, shoes, ready-to-wear, and accessories. There Complimentary shipping, Uncompromised Quality and Craftsmanship since 1854. You can shop iconic and new collections. They have new Mens ready-to-wear this season with LV Volt Fine Jewelry.
Gucci is the second top brand in clothing and ect. Gucci is a luxury fashion house based in Florence, Italy. Its product lines include handbags, ready-to-wear, footwear, and accessories, makeup, fragrances, and home decoration. Gucci was founded in 1921 by Guccio Gucci in Florence, Tuscany. Gucci also has an official site where you can buy the clothing and accessories.
Hermes is the third top brand in clothing and ect. Hermes International S.A or simply Hermes, is a FRench luxury goods manufacturer established in 1837. It specializes in leather goods, lifestyle, accessories, home furnishing, perfumery, jewellry, watches and ready-to-wear. Ita logo, since the 1950's, is of a Duc carriage with horse. Hermes has exceptional pieces, Savoir-Faire of Excellence, an Audacious and elegant Art of Living. You can explore the Hermes Collection and receive your creation in the iconic Orange box. Established in 1837.
Prada is the Fourth top brand in clothing and ect. Prada S.p.A is an Italian luxury Fashion house that was founded in 1913 by Mario Prada. It specializes in leather handbags, travel accessories, shoes, ready-to-wear, perfumes and other accessories. You can discover Pradas official website and buy online the latest collections of bags, clothes, shoes, and accessories and much more.
Chanel is the fifth top brand in clothing and ect. Chanel is a french house that focuses on womens high fashion and ready-to-wear clothes, luxury goods, and accessories. The company is owned by Alain Wertheimer and Gerard Wertheimer. Grandsons of Pierre Wertheimer, who was an early business partner of the couturiere Coco Chanel. Today you can also enter the world of Chanel and discover the latest in fashion & accessories, eyewear, Fragrance & Beauty, Fine Jewelry & Watches.
Leave a Comment
About the Contributor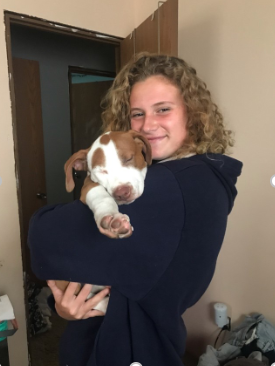 Sage Harper
My name is Sage Harper. I'm a junior at St. Marys High School. I play soccer and run track. I like food, my two best friends and my dogs.