Top Five Spanish Foods
Top Five Most Popular Spanish Foods
Paella
Gazpacho
Chorizo
Patatas Bravas
Jamon iberico
Paella is the top most popular food in Spanish. Paella is a spanish rice dish originally from Valencia. Paella is one of the best-known dishes in spanish cuisine. For this reason, many non-spaniards view it as a national dish, but Spaniards almost unanimously consider it to be a dish from Valencian Region. This is the top most popular food.
Gazpacho is the second most popular food in spanish. Gazpacho is also called Andalusian gazpacho, is a cold soup made of raw, blended vegetables. It originated in the southern regions of the iberian peninsula, specifically Andalusia, and spread into the Algarve regions. This is the second top most popular food.
Chorizo is a type of pork sausage. In Europe. Chorizo is a fermented, cured, smoked sausage, which may be sliced and eaten without cooking, or added as an ingredient to add flavor to other dishes. Elsewhere, some sausages sold as chorizo may not be fermented and cured, and require cooking before eating. This is the Third most popular food.
Patatas Bravas is the fourth top most popular food. Patatas bravas, also called patatas a la brava or papas bravas, all meaning "spicy potatoes", is a dish native to spain. It typically consists of white potatoes that have been cut in 2-centimeter wide cubes, then fried in oil and served warm with a spicy sauce.
Jamon iberico, "iberian ham" also known as spanish ham, is a variety of jamon, a type of cured leg of pork produced in Spain and Portugal where it may be labelled as presunto iberico. This is the fifth most popular food.
Leave a Comment
About the Contributor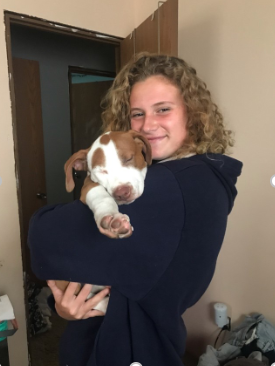 Sage Harper
My name is Sage Harper. I'm a junior at St. Marys High School. I play soccer and run track. I like food, my two best friends and my dogs.