Ferrets as Pets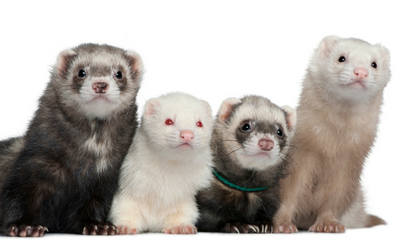 Ferrets are a great pet to have as they're friendly, playful, and easy to care for if you take the time. Ferrets don't require too much space to live, and are happy with or without other ferrets in their enclosure. For this reason ferrets make good pets for small apartments or houses, but they also live well in larger places too!
Ferrets don't make the perfect pet however, as they do have some significant drawbacks as pets. They are very expensive costing anywhere from 200-600 dollars as well as the expensive supplies needed, they smell awful if not controlled properly, and they can be easily injured. Other than the expenses, these issues can be remedied if you are an experienced pet-owner or genuinely try your best at taking care of your ferret.
Ferrets smell is hard to control but easy to prevent with regular cleaning, and injuries are easy to prevent if the enclosure is large enough and you keep your pets happy. Ferrets require feeding 2-3 times a day, and need to be played with every while to ensure they are happy and adjust well to their owners. Other than this however, ferrets tend to keep to themselves playing around and climbing anything they can, being a great source of cute entertainment.
Leave a Comment