Top Valentine's Day Gifts for 2021
Top Valentines gifts in 2021
Disney's Mickey & Minnie Love Bundle
Zales Diamond Accent infinity necklace in sterling silver
"Head over Heels" personalized 2-1 flip necklace
The first top rated Valentines gift is Disney's Mickey & Minnie Love Bundle. This is made to make your lover's heart skip a beat. It's a beautiful flower bouquet and pop up card perfectly paired like you and your loved one. Each lovepop card is 5 inches wide by 7 inches tall and each pop up flower bouquet is 10.25 inches tall by 7.5 inches wide when fully unfolded. Make your loved you filled with joy with the bundle.
The second top rated Valentines gift is Zales Diamond Accent infinity necklace. This necklace you can get in White Diamond, Blue Diamond, and Black Diamond. This necklace is 1 inch wide. It is shaped as an infinity sign meaning "Forever" so you can tell your loved one that you want to be with them forever. You can also add a one year replacement plan for $4.99. This infinity necklace's original price is $119.00. The price now for Valentine's day is $98.99.
The third top rated Valentines gift is the "head over heels" personalized 2-1 flip necklace. This necklace has a sterling silver pendant with your 2 crystal birthstones. So you can have your lover's birthstone on one side and yours on the other. On the necklaces you can engrave names on the center design that flips to show a red crystal heart. This necklace costs $129.99. This necklace will sure make your loved one happy on Valentines day.
Leave a Comment
About the Contributor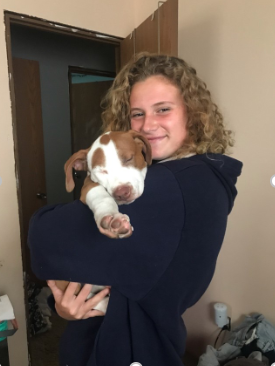 Sage Harper
My name is Sage Harper. I'm a junior at St. Marys High School. I play soccer and run track. I like food, my two best friends and my dogs.