New Strain Of COVID-19 in England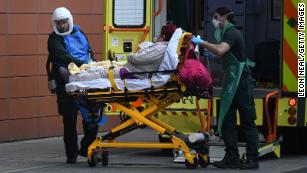 People in the United Kingdom have been living under lockdown for the past three weeks, hoping their sacrifice would bring the country's latest coronavirus surge — caused by the new, more contagious variant of the virus — under control.
But despite the harsh restrictions, case numbers are not dropping as fast as experts have hoped. Deaths continue to rise and public health experts and the government are starting to warn people that the country will be in this battle for the long run.
The new variant, known as B.1.1.7, has wreaked havoc in the UK, fueling a surge in cases towards the end of 2020 despite a national lockdown being in place. Data showing an uptick in cases in younger people suggests this was largely because schools had stayed open, enabling the variant to spread rapidly.
The UK is a cautionary tale of what could happen elsewhere. American public health experts are warning about a possible new surge in Covid-19 cases caused by the new strain first seen in southeast England. The US Centers for Disease Control and Prevention has warned that the new strain could become the predominant variant seen in the United States by March.
According to Public Health England, the new strain first emerged in September. By late November, scientists started to raise concerns over the rising number of infections in Kent in the southeast. The region was an anomaly, because while cases were generally going down across the country due to national restrictions, they weren't dropping in Kent.
By December, the country's leading epidemiologists were warning the new variant was outpacing the restrictions. It had by then spread to London where it was responsible for two-thirds of new cases.
This forced the country into a much stricter lockdown from January 5 in which people were instructed to stay at home, households were banned from mixing — indoors and outdoors — and everything but essential stores closed, including most schools.
For many experts, the decision came too late. "It's amazing that we seem to be making the same mistakes over and over again — with increasing loss of life," Dr. Julian Tang, clinical virologist at the University of Leicester, noted in comments to the UK's Science Media Centre.
Leave a Comment
About the Contributor
Josh Brookover, Reporter
My name is Joshua Brookover, but I really prefer Jericho. I'm a senior now, and this is my second year of journalism. I'm very much an Art kid. This...