Top Three Delicious Recipes
Top 3 delicious recipes
Bacon wrapped pineapple shrimp
Brussel sprouts with bacon
Grilled shrimp
The first top rated food choice is the Bacon wrapped pineapple shrimp. First step to making this fine dish is twelve jumbo shrimp, devised. Next you will need ¼ fresh pineapple cut into bite sized chunks or 14 ounce can pineapple chunks in natural juice, drained. Then you'll need 6 slices center cut bacon, cut in ½ crosswise. Then you will need 12 wooden toothpicks to hold them together. Then you will heat a nonstick skillet over medium high heat. Holding a shrimp, nest a chunk of pineapple in the natural curve of the shrimp then wrap bacon around the shrimp and pineapple and secure with a wooden toothpick. Wrap and secure all 12 shrimp then add to the hot pan and cook for 3 minutes on each side or until bacon is crisp and shrimp are opaque and firm. Then you can put it on a plate and serve.
The second top rated food choice is Brussel sprouts with bacon. First step to making this divine dish is to get three pieces of bacon and chop them up. Then you will get 1 table-spoon extra virgin olive oil, and 1 turn on the pan. Then 1 shallot chopped. Then you will need 11/2 pounds brussel sprouts left whole, larger sprouts halved. Next salt and pepper to your taste. Then 1 cup of chicken broth. You will brown them in a medium skillet over medium high heat. Then you will move bacon to a paper towel lined plate. Add extra virgin olive oil to the pan, then 1 turn. Add shallots to the pan and saute to 1 to 2 minutes. Add brussel sprouts and coat in oil. Season with the salt and pepper. You will cook the brussel sprouts for 2 to 3 minutes till softened. Then add broth. You will bring the broth to a bubble. Cook for 10 minutes till tender. Then take them off, put them on a dish, and sprinkle them with bacon bits.
The third top rated food choice is Grilled shrimp. You will need 16 jumbo shrimp, extra virgin olive oil, coarse salt and black pepper, and 2 lemons halved. You will first preheat the griddle pan over high heat. Then butterfly shrimp by slicing almost through lengthwise, but leave the shell on shrimp, this will keep the shrimp tender while grilling over such high heat. Then you will brush the shrimps with oil, season with salt and pepper, and grill for 2 minutes on each side, until shells are hot pink and the shrimp is opaque. Lastly you will place lemons on the grill last minute, the heat will reduce the juice from the lemons. To serve, squeeze grilled lemon wedges over shrimp and your dish is served.
Leave a Comment
About the Contributor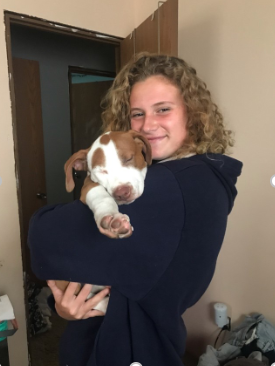 Sage Harper
My name is Sage Harper. I'm a junior at St. Marys High School. I play soccer and run track. I like food, my two best friends and my dogs.