Plato's Closet
Have you ever shopped at Plato's closet? It kind of looks like a thrift store but has more options. This store could have name brands like Hollister, American Eagle, or even Calvin Klein. Then they could have just a random shirt from goodwill there. You have choices of different varieties of shoes as well. There are boots, heels, flip flops, tennis shoes and a lot more. My thoughts of Plato's Closet are that I think Plato's closet is very good. I like their clothing choices. I always get different types of purses and shoes. I think the last thing I bought was heels. Plato's Closet is one of my favorite places to shop. I rate it a five star.
At Platos you can take in clothes of yours to sell. You can bring in clothes that are old, too small, also too big. The clothes you bring in can be name brand or just even old clothing that you don't even know where they're from. But you can only sell clothes if you have a permit or license. Plato's closet is a really good store to shop at for all ages. Older women can shop there as well as little kids. At Plato's closet there are also many accessories. You have many choices of perfumes and perfumes. They have some hair ties including scrunchies. They have tons of shoes. From plain on running shoes to knee high boots.
Plato's Closet sells a lot of their items for really cheaper than going to a name brand place to buy them. I believe that Plato's closet will go on for a while because they are a good clothing store and a very popular place to go. So shopping at Plato's Closet is a good choice because you can get what you need at an affordable price. Plato's Closet is located in Parkersburg WV, and welcomes anyone and everyone.
Leave a Comment
About the Contributor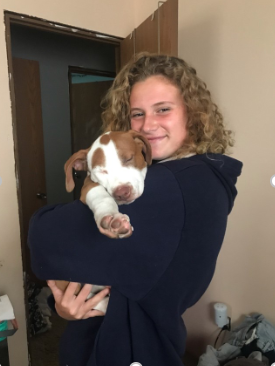 Sage Harper
My name is Sage Harper. I'm a junior at St. Marys High School. I play soccer and run track. I like food, my two best friends and my dogs.