5 Delicious Desserts
Many people love a good dessert after dinner. Here are 5 quick delicious desserts to try out.
Mini Strawberry Cheesecake
3 cups (13oz) quartered strawberries, frozen or fresh
1 tablespoon lemon juice
1 teaspoon lemon zest
1/4 cup white granulated sugar
1 cup graham cracker crumbs
2 tablespoons brown sugar
3 tablespoons unsalted butter, melted
16 oz (1lb) cream cheese, softened
1/2 cup white granulated sugar
2 large eggs, room temp
2 teaspoons vanilla extract
1/2 cup sour cream, room temp
Zest of one medium lemon
6 fresh strawberries, cut in half
Cook a mixture of fresh or frozen strawberries, lemon juice, lemon zest and sugar on the stove until the juice is thick and syrupy.
Mix of graham cracker crumbs, brown sugar and melted butter. Mix it all together and press into cupcake liners.
Mix together cream cheese and sugar, then add in two eggs, vanilla, lemon zest and sour cream.
Bake the bases for 8 minutes, then top with filling. Add a little strawberry sauce on top, then bake for another 30 minutes.
Now let it chill and set – 2-3 hours is enough but overnight is even better.
Peach Cobbler with Cake Mix
Fresh peaches
Butter
Cinnamon
Cornstarch
Brown sugar
White or yellow cake mix
In a large bowl, toss together the peeled and sliced peaches, sugar, butter, cinnamon, and cornstarch.
Put the peach mixture into a 9×13-inch baking dish.
Sprinkle the cake mix over the peach mixture, then dot with more butter.
Bake until lightly browned.
Snickers Ice Cream Cake
Ice Cream Sandwiches
Fresh Whipped Cream
Hot Fudge Sauce
Caramel Sauce
Roasted Salted Peanuts
Mini Snickers Bars
Place the ice cream sandwiches in the bottom of a 9×13″ pan.
Cover with 3/4 hot fudge sauce. Set in the freezer until hard.
Spread whipped cream all over the hot fudge and place back in the freezer to set, about 20 minutes.
Sprinkle with snickers bars and top with ice cream sandwiches.
Pour 3/4 caramel sauce over the top with whipped cream. Place in the freezer to set, about 20 minutes.
Sprinkle additional snickers, the remaining caramel and hot fudge sauce and roasted peanuts.
Place in the freezer for 2-3 hours to set.
Peanut Butter Sheet Cake
All-purpose flour
Baking powder
Salt
Brown sugar
Granulated sugar
Creamy peanut butter
Vegetable oil
Vanilla extract
Eggs
Whole milk
Unsalted butter
Creamy peanut butter
Powdered sugar
Vanilla extract
Beat together creamy peanut butter, oil, sugar, and vanilla until it's all mixed.
Add eggs one at a time and make sure they are well beaten in before moving on.
In a separate bowl whisk together the flour, baking powder, and salt, then add 1 third to the wet mix and mix with a spatula until combined.
Alternate the milk and remaining dry ingredients, ½ of each at a time and stirring through with a spatula.
Pour mixture into your baking tin and level it out then bake for roughly 20 minutes.
Apple Cream Pie
1 1/2 cup all-purpose flour
2 tablespoons granulated sugar rounded
1/4 teaspoon kosher salt rounded
5 oz butter unsalted, cubed & cold
3 tablespoon water cold
Extra flour for rolling
7 apples medium, approximately 2 lb 10 oz, yields 2 lb peeled & diced
1/3 cup light brown sugar packed
1 teaspoon apple pie spice
1 tablespoon lemon juice fresh squeezed
1 oz butter unsalted
2 teaspoon cornstarch
2 tablespoon water
1 cup heavy whipping cream cold
8 oz cream cheese room temperature
1/2 cup granulated sugar
1 teaspoon pure vanilla extract
Start by making the pie dough and baking it empty without any of the filling. Allow it to cool completely before adding any of the filling.
Cook the apple pie filling in a saucepan and allow it to cool completely as well.
Make the cream filling, which is a mixture of whipped cream and cream cheese. Keep this refrigerated.
When the pie crust and apple are completely cool, assemble the pie. Keep refrigerated.
Leave a Comment
About the Contributor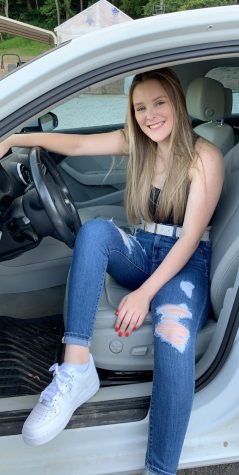 Madison Scott
My name is Madison Scott and I'm a junior. I am currently enrolled in Early College Classes. I also do 3 sports, which are cross country, basketball,...