Williamstown Beats St. Marys
Top ranked St. Marys was its own worst enemy Friday night. The Blue Devils could not get out of their own way as four costly turnovers and a number of ill-timed penalties were detrimental in a 20-7 loss to the 11th ranked Williamstown. The Yellow Jackets were content to sit back and allow the Blue Devils to beat themselves. The host worked the clock all night long with a sustained ground game and never let their archrivals back into the game after building a 14-0 lead to halftime.
The loss knocked St. Marys from the ranks of the unbeaten and the Blue Devils will carry a 4-1 record into next week's Homecoming contest against Wirt County. St. Marys appeared poised to score on its first possession of the night as a 37- yard pass from Brennan Boron to Ben Long set the Blue Devils up with a first down at the Williamstown 3rd yard line. Boron plowed ahead for two yards from there and St. Marys was less than half a yard away from the paydirt. But, in what would become the theme of the night the Blue Devils would squander the opportunity. An illegal procedure pushed the ball back to the six-yard line.
The Blue Devils ultimately turned the ball over on downs when Darrien Bortey was stopped two yards short of the end zone after hauling in a fourth down pass. Despite being pinned deep inside its own territory, Williamstown needed only two plays to light up the scoreboard on its first possession. After tailback Trevor Oates gave the Yellow Jackets some breathing room with a 14-yard run, quarterback Brayden Modesitt got loose on a quarterback draw and won a footrace with the Blue Devil secondary for an electrifying 84-yard touchdown run. Garret Hill split the uprights for the extra point and Williamstown enjoyed a 7-0 lead just under seven minutes into the first quarter.
The teams jockeyed for field position over the next 10 minutes before Williamstown took advantage of St. Marys' second big mistake extended the lead to 14-0. Boron was intercepted by Modesitt near midfield and five plays later, Oates ran through a big hole at the line of scrimmage and raced 32-yards for a touchdown with 6:23 left in the first half. But, at the end of the second half the Blue Devils couldn't pull it off, with a 20-6 deficit against the Williamstown Yellow Jackets.
Leave a Comment
About the Contributor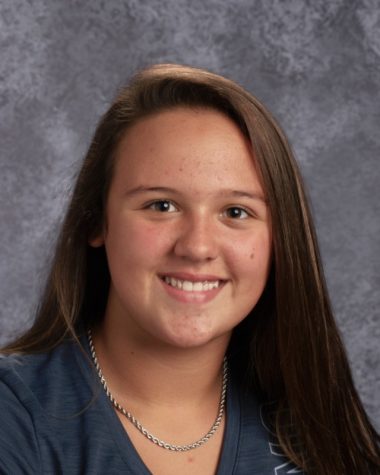 Olivia DeWeese, Reporter
Hi, my name is Olivia DeWeese, and I am a senior at SMHS. I have been in the newspaper class for two years now, and I love it. I am also a member of the...