Knives Out Review
"Knives Out" follows the investigation of famous crime/mystery novelist Harlan Thrombey's death. Detective Benoit Blanc is hired anonymously by someone who does not believe that Harlan's death was by suicide, and leads the investigation of the murder suspects. The suspects include Harlan's family and staff members, including his caretaker Marta. Right off the bat, Detective Blanc is drawn to Marta because she has gotten insight about the family overtime since Harlan would confide in her daily, and because of her honesty\; Marta pukes when she lies. Blanc then decides to have Marta as his right hand woman in the investigation to put this case to rest. The investigation truly turns into a mystery story, which I'm almost certain Harlan Thrombey would've been proud of.
I saw "Knives Out" with some family over Christmas break, and absolutely loved it. The movie features famous actors such as Jamie Lee Curtis, Chris Evans, Daniel Craig and so many more, and it was nice to see these serious actors get to have a little fun while still making an incredibly dramatic movie. I won't lie to you, the first few minutes of the movie are sort of slow, but definitely give this movie a chance. Soon after the first few scenes, however, the movie really starts to pick up and you're truly in for a ride with this one. I found myself literally at the edge of my seat, and was constantly questioning who in this movie you could trust, and my predictions on the outcome. I also found myself laughing a lot of times, which is not usual for this genre of movie. This whodunit movie is still classic to the traditional elements of the genre\; the suspense, mystery and betrayal. On the other hand though, it is a fresh take on the genre\; including humor and modern technology, dialect and trends.
Overall, I loved this movie. It kept me interested, kept me laughing and the ending had me very shocked (no spoilers though)! I also have to mention that the other people in the theatre were so fun. There were so many parts where the whole theatre gasped and yelled things like "what?!" or "no!" and there were also parts where we all found ourselves laughing. It was great so I just had to give a quick shoutout to those cool group of people who made the movie even more enjoyable.
I would recommend this movie to anyone who likes movies in the genre of mystery, comedy, dramas or thrillers. I would also recommend it to anyone who loves the game clue, which this movie is basically a live action version of. I rate this movie five out of five stars.
Leave a Comment
About the Contributor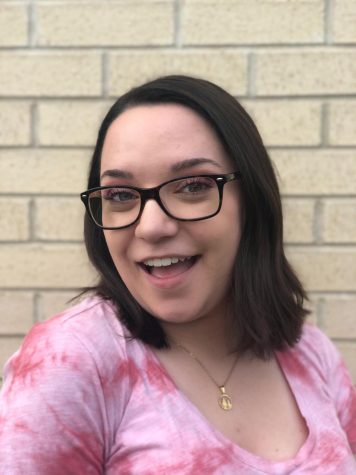 Jenna Barnhart, Editor
Hey, I'm Jenna Barnhart! I am a 17-year-old senior at St. Marys High School. I have an older brother and two dogs, named Nicki and Finn. My favorite...