Movies To Get You In The Christmas Spirit
The Christmas season is finally upon us, and this means it's time to get into the festive mood! One way to do this is to watch some Christmas movies! Here is a list of Christmas movies, in no particular order, that you can watch alone or with your friends and family to get you in the Christmas spirit!
Elf (2003)- Accidentally sent to the North Pole as a child, Buddy was raised among Santa's elves. However, due to his normal human size, Buddy gets the feeling that he doesn't fit in. Buddy decides to head to New York to search for his real dad, still dressed completely as an elf, I must add. Once finding his dad in NYC, who turns out to be a businessman, his father tries to build a relationship with his childish son.
A Christmas Story (1983)- Based on the book by Jean Shepherd, this timeless movie follows the winter adventures of Ralphie Parker, who is constantly dealing with his angry dad, and mother who always comforts Ralphie. Ralphie spends the majority of his days running from his bully and dreaming of his dream Christmas gift, a Red Ryder air rifle, to which he is always told he'll "shoot his eye out with."
National Lampoon's Christmas Vacation (1989)- Clark Griswold is trying to give his family the best Christmas ever, however, this Christmas soon turns into a circus. Clark's cousin Eddie and his family come to Clark's house unexpectedly and begin to live in their camper on Clark's property. Clark also deals with his boss who takes his usual Christmas bonus away. This is the beginning of the end for the Griswold's perfect Christmas.
The Santa Clause (1994)- Scott Calvin has been granted custody of his son Charlie on Christmas Eve. Scott accidentally causes the death of a man in a Santa suit, and is then taken to the North Pole. An elf then explains that Scott is to take the place of Santa before next Christmas. Scott believes that this was all a dream, but soon realizes it's not after he begins to gain weight and starts to sport a white beard. Scott realizes that he has a lot of work to do if he wants to pull this next Christmas together.
The Nightmare Before Christmas (1993)- Jack Skellington is the pumpkin king of Halloweentown, and has become tired of his role and of the traditions of scaring people in the "real world." Jack decides to take a walk to clear his mind and stumbles across Christmastown, which is the exact opposite of Halloweentown. This place is full of cheerful people, bright colors and beautiful songs. Jack decides to kidnap Santa and take over his job, but realizes this might not be as simple as it seems.
How The Grinch Stole Christmas (2000)- Based on the children's story by Dr.Seuss, the story of how the Grinch stole Christmas comes to life through Jim Carrey's acting as the Grinch. The Grinch is the outcast of the town, living on the top of a mountain far away from the citizens of Whoville. Hating their cheerful spirit for the holiday, the Grinch decides to ruin Christmas, with the help of his dog Max. However, the Grinch's plans are ruined once he meets the sweet little girl known as Cindy Lou Who.
The Polar Express (2004)- Based on the children's book by Chris Van Allsburg, The Polar Express follows the adventure of a young boy who is travelling to the North Pole via the Polar Express. Over the trip, the young boy will learn that the wonder of life will never end if he always believes.
Home Alone (1990)- Misbehaving the night before the family trip to Paris for Christmas, Kevin McCallister is told to sleep in the attic by his mother. Kevin gets upset because of this, and wishes to have no family. The next morning, the McCallister family leaves without the 8-year-old Kevin, and Kevin wakes up to an empty house. However, his excitement quickly fades once he learns that two men are planning to rob the McCallister household, and Kevin must protect the home on his own.
A Christmas Carol (2009)- London is bustling with Christmas spirit and excitement, however, Ebenezer Scrooge does not plan to join in on having the joyful spirit. Instead, Ebenezer decides to degrade everyone's cheerful view on Christmas, including his clerk and his nephew. Later, Ebenezer meets the ghost of his old business partner, who has passed away, at night. He warns him that three spirits will visit him later that night. Each spirit takes Ebenezer through the past, present and future to hopefully persuade him to change his bitter outlook on the holiday.
Frosty The Snowman (1969)- A hat possessing magic is thrown away, and is then placed on a snowman that a group of children have made, thus bringing the snowman to life. However, a magician named professor Hinkle, wants the hat back. As the weather begins to warm up, Frosty and his jolly soul are in danger. The kids who originally made Frosty begin to do everything they can to protect Frosty from Hinkle, and from the approaching warm weather. Frosty decides to take a train to the North Pole with a young girl named Karen, to escape Hinkle and the warm weather.
Leave a Comment
About the Contributor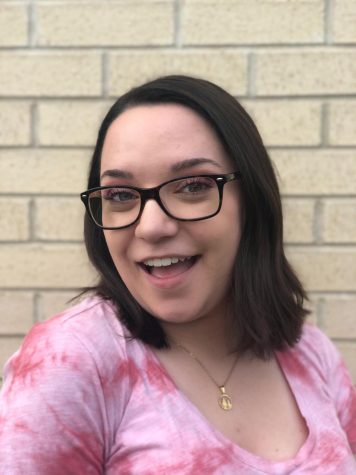 Jenna Barnhart, Editor
Hey, I'm Jenna Barnhart! I am a 17-year-old senior at St. Marys High School. I have an older brother and two dogs, named Nicki and Finn. My favorite...