The Beautiful World of Jeffree Star
"The Beautiful World of Jeffree Star" is a series created by Shane Dawson and Jeffree Star. This is the second series they have done together. In this series, Jeffree allows Shane and everyone at home watching to get fully behind the scenes view at the beauty world, and his makeup company. In the first series Shane and Jeffree did together back in 2018, they joked about collaborating on an eyeshadow palette, and an entire makeup collection. However, in this series, they make this silly dream a reality.
Throughout the series, we get to witness Shane and Jeffree creating this palette and collection from start to finish. From getting to watch them pick the shades and name them, to picking the palette box and even down to the tape the shipment boxes will be sealed with. It is something that has never been done in the makeup business, getting to watch a product being built from the bottom to the top.
I thoroughly enjoyed this series. I have been watching Shane Dawson since I was probably way too young to be a fan of him, and I have always said that I think Shane has truly shaped my personality into what it is today. I haven't watched Jeffree for too long, but I would say since their last series together, I have become a bigger fan of him. I actually found myself crying happy tears after finishing this series. It may sound silly, but I felt so proud of Shane for getting to do something this big and out of his comfort zone, and I feel like he was finally getting what he deserved with this opportunity.
I also enjoyed the series because it was something so different. Sure, I would watch anything that Shane would create, but seeing two of my worlds, Shane/YouTube and makeup colliding, was very interesting. It was super interesting to be able to see behind the scenes of everything they did, like watching the business meetings and feeling like you were actually there. When I finally get my hands on the palette, or any other piece of the collection, I feel like it's going to be even more special than just buying a random palette on a shelf. Getting to experience the making of it has made it much more personal, and I feel like I understand how huge and busy the makeup industry really is now.
I rate this series five out of five stars, and recommend it to anyone that is either a fan of Shane and or Jeffree, or anyone who is a fan of the beauty/makeup industry. Also, keep an eye out for a review of the "Conspiracy" palette as soon as I can get my hands on one!
Leave a Comment
About the Contributor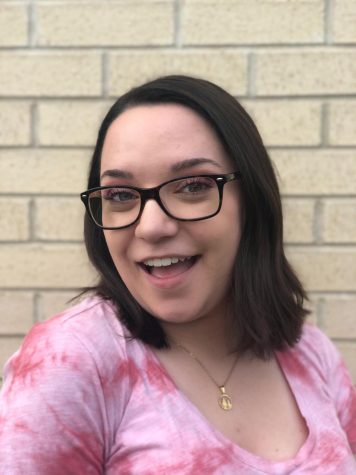 Jenna Barnhart, Editor
Hey, I'm Jenna Barnhart! I am a 17-year-old senior at St. Marys High School. I have an older brother and two dogs, named Nicki and Finn. My favorite...