10 Ways To Get The Most Out Of Career Day
Career day is a whole school day dedicated to learning about new careers for students. Career day is on Nov. 22. Students will typically sign up the week leading up to career day. People from all over the Mid-Ohio Valley come to SMHS to share their career, why they chose it, how you can get into a career like theirs, and more. These people, who volunteer a day to us, set up in our classrooms all around the school. The day will start out with a guest speaker. Then we go to three different sessions. Finally, we will have a career panel where we can ask multiple people about their professions. The careers participating in career day are as follows: Military (during and post career), engineering, holistic treatment/healing, accounting/public debt, communication/ media studies/journalism, education/teaching, pharmacy/pharmacy tech, HVAC, surgical technology, chemical operator, carpenter union, adult career center,
counseling/psychology, welding, dentistry/dental hygiene, physical therapy/ assistant, massage therapy, coaching/ sports management/ professional athlete, cosmetology, game design/ computer systems and electrician union. Here are 10 ways to make the most out of career day:
Do not sign up with your friends – Signing up for something that you're not actually interested in will just waste your time. Sign up for something that you may want to do or have considered.
Take notes – Make it enjoyable, and ask questions. Asking questions are the only way to learn more. They may have a cool career but they're not mind readers.
Get out of your comfort zone – Go to career that isn't your top choice. Learn about a career that you may see on the sign up sheet that you've never heard of before or do not know a lot about. It may surprise you.
Ask questions – The speakers are here for you! Ask them about their everyday life in their career. This may be the only chance to get to know a little about a certain profession, so use it!! There will also be a panel, and it will be boring if students just stare at the career day volunteers.
Think before you go – Think of careers that interest you. Do not just sign up for the ones that seem cool or fun. Sign up for careers that you are actually interested in, instead of going into one and falling asleep.
Prioritize – If there is a career you really want to go to, but your best friend wants you to go with her so she won't be alone, go to the career you want. Your best friend will be okay, and you'll get to learn about something meaningful to you.
Get the presenters information – Seniors especially, get the presenters information so you can ask them any questions you want. If you're a senior, you could possibly find a job in what you want if you have somewhere to look (or someone to help).
Pay attention – Pay attention to the speaker and be respectful. You may learn something that would really interest you.
Dress for success – If you want to make a good impression on someone, look and act the part. You may even impress them.
Take the items they offer you – Everyone loves free stuff, and they're giving them to you for a reason! Use them and look at them. Do not leave them on the ground or throw them in the trash on your way out. Be respectful, and decide what you do and do not want later!
Leave a Comment
About the Contributor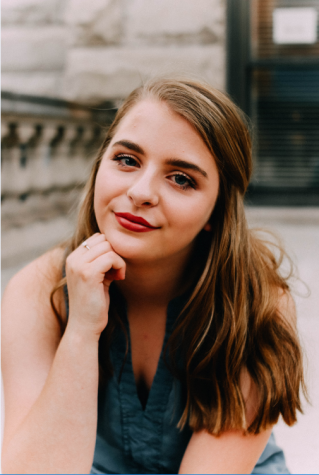 Jaden Hatcher, Opinion Editor
Hi, my name is Jaden Hatcher! I am 17 years-old, and I am a senior at St. Marys High School. I have seven dogs, one cat, and a lot of chickens! After high...