4 Healthy Snacks
Snacking is an excellent way to stay energized during the day when you don't have time to sit down for a meal. Choosing treats that are filled with nutrients, vitamins and minerals will fuel your body and keep your blood sugar levels steady. The best snacks are the ones that are easy to make and tastes great, without giving you the bloated feeling. Here are some easy healthy snacks that will keep you awake and alert for your day!
Snack Mix
1 oz. mini pretzels (about 3/4 cup\; 16 pretzels)
1 oz. mini pretzel sticks (about 27 pretzels)
1/2 c. unsalted peanuts
1/2 c. unsalted pecans
1/2 c. unsalted almonds
1/2 c. cashews
1/2 c. cheerios
1/4 c. unsalted pepitas (pumpkin seeds)
1 tbsp. olive oil
1 1/2 tbsp. olive oil
1 1/2 tbsp. light brown sugar
1 tbsp. finely chopped rosemary
1/2 tsp. cayenne
kosher salt
black pepper
Heat oven to 375 degrees F. Line a large baking sheet with nonstick foil. 
In a large bowl, toss the pretzels, peanuts, pecans, almonds, cashews, Cheerios and pepitas with olive oil, sugar, rosemary, cayenne and ½ teaspoon each salt and pepper. 

Arrange the nut mixture on the prepared baking sheet in an even layer and roast until nuts are toasted and golden, 12 to 15 minutes.
Peanut Butter Protein Balls
1 1/4 c. old fashioned oats
1/2 c. unsweetened shredded coconut
1/4 c. mini chocolate chips
2 tbsp. chia seeds
2 tbsp. flax seeds
1/2 tsp. ground cinnamon
1/4 tsp. kosher salt
3/4 c. natural peanut butter
1/4 c. honey
1/2 tsp. pure vanilla extract
2 tbsp. Milk
Line a large baking sheet with parchment paper. In a large bowl, stir oats, chocolate chips, coconut, chia, flax, cinnamon, and salt until combined. Stir in peanut butter, honey, and vanilla. Mixture should be slightly crumbly. If it's too dry, gradually stir in milk.
Roll mixture into balls then place on prepared baking sheet. Refrigerate until chilled, about 30 minutes.
Sweet and salty Chocolate Bar
2 (12-oz.) bags dark chocolate chips, melted
1/2 c. salted pretzels, roughly chopped
1/4 c. dried cherries
1/4 c. unsweetened coconut flakes
1/4 c. unsalted pistachios, roughly chopped
Flaky sea salt
Line a baking sheet with parchment paper. Pour a third of the melted dark chocolate onto prepared baking sheet and use an offset spatula to spread into an even layer, 1/8″ thick.
Evenly sprinkle with half the pretzels, cherries, coconut, and pistachios.
Pour over remaining melted dark chocolate and spread to evenly cover the ingredients.
Evenly sprinkle with remaining pretzels, cherries, coconut, and pistachios. Garnish with flaky sea salt.
Let bark cool until set, 1 hour, then break into pieces. Store bark in a resealable container until ready to eat.
Frozen tropical fruit Kebabs
2 small mangos, cut from stone and halved
1/2 small pineapple, peeled and cut into triangles
1 lime
2 oz. white chocolate, chopped
4 Bamboo skewers
Line a large rimmed baking sheet with parchment paper.
Cut each mango halve into 4 slices. Thread onto bamboo skewers, alternating with the pineapple\; transfer to the prepared baking sheet. Finely grate the lime zest into a small bowl, cover, and set aside. Squeeze lime juice over the fruit and freeze until firm, at least 4 hours.
When ready to serve, in a small microwave-safe bowl, melt the chocolate on 50 percent power in 20-second increments until smooth. Transfer the frozen fruit kebabs to a serving platter, drizzle with chocolate, and sprinkle with reserved lime zest.
Leave a Comment
About the Contributor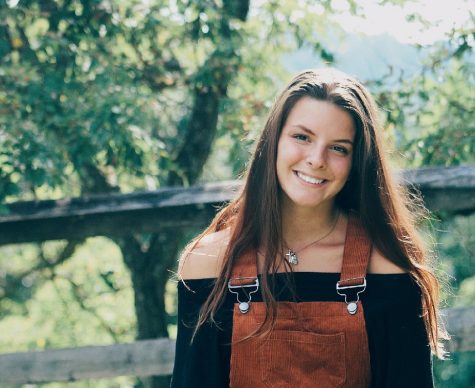 Kenzie Heflin, News Editor
Hi, my name is Mackenzie Heflin. I am 17 years old. I want to major in k-12 education and then get my business degree to start a photography business....